Simplify your life and make time for food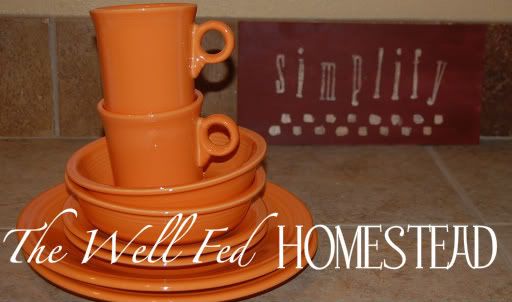 Let's face it, real food cannot be prepared as quickly as a TV Dinner. While you might find 5 ingredient real food recipes, and possibly even 30 minute dinners, you will likely have to do some prep work (like mincing garlic ahead of time, etc.).
Animal protein takes a while to cook. And since animal protein (and animal fat) are the healthiest foods there are, you'll inevitably need to spend time in the kitchen.
It takes longer to make cheesy broccoli than it does to whip up a box of mac 'n cheese.
It takes longer to cook spaghetti squash than it does to cook a pot of spaghetti noodles.
So, you'll need to plan ahead. I like to plan a minimum of 1 hour to prep dinner. An hour and a half is ideal, though. Prepping a few things in the morning, or a couple of things at the beginning of the week helps too.
Amy Lynn Andrews of Blogging with Amy has created a great tool to help you manage your time more effectively. It's called Telling Your Time. Note that I am an affiliate and if you click on this & buy it, I will receive compensation (at no extra charge to you, of course!). However! I would not be mentioning this product at all if I weren't *absolutely positively* happy with my own purchase of this book. 🙂
Whether you get that book or not, I encourage you to consider all of the things you do in your life. Now–add "Real Food Chef" to one of your titles. You don't have to be gourmet, of course, but you do need to spend time preparing real food. There are varying degrees of realness of food, and sometimes it takes a while to get there. You can start with baby steps (replace white sugar with honey, start eating more salad, then make homemade dressings instead of buying bottled ones, etc.), or you can jump right in (GAPS Diet, here we come!). Whatever floats your boat, do it–but you'll need to invest some time into this role in your life, if you're going to succeed. You'll need time to:
research what it is you believe in about food
research where to find the best prices on real food
figure out your budget, and determine how much real food you can afford
plan your menu (or let us plan it for you :))
do your grocery shopping
stock up on foods when they are in season. Can, freeze, dry…
make breakfast, lunch and dinner. There are no quick and packaged real foods. Cereal for breakfast doesn't count as real food, no matter how many endorsements the package has. You and the people in your life will get hungry, at least 3 times a day. You'll have to plan for that, make time for that. And, as Nike so famously proclaims, just do it!
I suggest making this meal planning thing a priority in your life. If that means cutting things out, do it. There are many *good* things that we can do in our life. If we sign up for all of the *good* things and then eat a bunch of junk, we may run out of time and energy to enjoy those *good* things. I say, focus on the *great* things and make sure you're living well. You fuel your car well, right? (You wouldn't think of pouring cheapo fuel into a nice car, would you?). Fuel yourself right. It takes more of an investment in time, but it's well worth it in the end. Your car –YOU will run better and be more efficient.